After another good night in Santo Domingo was followed by a great breakfast in the Parador Santo Domingo which was a very classy hotel. All the lads agreed it was wasted on us. They would rather be here with their other halves. Honest!
The lads set off in good spirits as the weather looks to be clearing a little at this point. And the first leg to Belorado was a steady climb to 800m, nothing untoward for the Coastbusters.
So, I hang back in the hotel to update the blog, etc. I literally just got finished when the first call came in from Billy.
Urgent! Get to Belorado now as the team are soaked to the skin and frozen to the bone on the route.
Then the next call to another location further on from Steve K.
I arrive within half an hour and find one group resting in some service station toilets. Urgent change of gear in the back of van and this group press on to the next stage.
The next group are in a cafe and they too require a warming coffee and gear changes. At least this cafe had internet (very surprising) and the lads were able to check on the website.
Now things get tougher… much tougher…
From Belardo to St. Juan de Ortega the climb rises to 1150m and the weather is getting worse. This is cold. England in winter cold. I have the heater on in the van as the rain turns the roads into rivers.
I arrive at St Juan wondering what I'll meet. I have to tell you when the first group arrive I am shocked. As in slack jawed.
All the lads are soaked to the skin and fatigued. I have to leave the van running for over an hour as several of the lads take turns to get blasted by the van heater.
I really had no idea until this point what exactly was involved in the Camino challenge but we all do now.
The lads deserve total respect for the effort they are putting in on this ride.
And there's still a final stage to go!!!!
Energy needed urgently…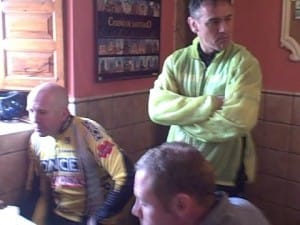 Yes, it was that grim!
But after a round of omelet sandwiches the lads press on to Burgos.