Open Adventure OpenCycling C2C – 2013
Fresh from the GR5, Captain Coxy has taken part in the OpenCycling challenge of the Coast to Coast in a Day. And didn't he do well… you can see the results here…well under his target of 10 hours!. Well done Paul!!
Paul describes the experience…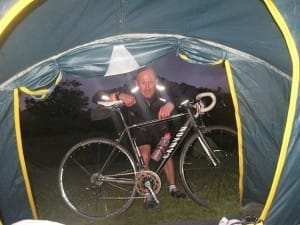 We arrive at Seascale around 9pm for the start of the Coast to coast in a day challenge, 150 miles from Seascale to Whitby. I'm on my own for this one but have managed to rope my missus along for a lift across, camping will be fun I tell her!
We pitch up in a school field provided for the cyclists and, as usual on our rides, we always manage to get as little sleep as possible. There is a wind turbine 100 meters away and the wind is blowing hard! I reckon I got an hours kip at most so at 4pm I'm up and set about breakfast then I'm off down to the start on the beach.
The start time is between 5-8am, I want to be away as early as I can but there is a queue as we are all electronically tagged, I get away for about 5'10, its cold and windy as I set off knowing that in about 30 minutes I'll be on the notorious Hardknott pass, the toughest climb in England bar none!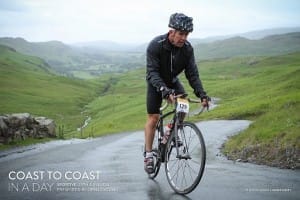 After 13 miles, oh the irony, I arrive and start to climb, I pass a lad walking with his bike but pass no one else, as I near the top in agony a photographer informs me that I'm the second rider of 500 to the top, this spurs me on as I descend and head for the Wynrose pass another killer but a mere blip in comparison to Hardknott.
I press on and arrive at the Windermere ferry, another rider appears so the two of us board an empty car ferry for a short trip across to Bowness, from there I press on alone to the first feed station in Kendal. A quick stop an I'm off, the feed stations are roughly 30 miles apart and its just a matter of focusing on getting to the next one.
Getting out of Cumbria is tough but once I get to Sedbergh the sun comes out and the wind gets behind me as I hammer on to Hawes.
At the next feed station I meet up with a young lad from Ripon who had missed the ferry turn off and went around the head of the lake, he's blowing a bit as he had been trying to make up for lost time. I ask him if he wants to ride with me and share the work and he obliges and we're off, there is only one rider in front of us and we want to keep it that way.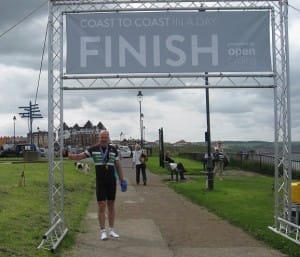 Working together we smash through the dales into Richmondshire and then onto the North Yorkshire Moors, we are well ahead of time but I tell him that the last 30 miles will be tough as I know these hills and so this was proved to be.
We are both aiming to get to the finish in under 10 hours so at the last feed station at Ingleby Greenhow we're in and out as quick as we can, the legs are now really starting to hurt as we push on to Whitby.
A stretch of road resurfacing at Castleton stops us for 10 minutes but finally turning out of Aisalby the finish comes into view and its down hill to Whitby to both finish well under the 10 hour target.