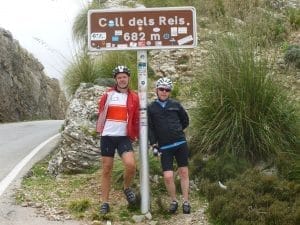 A couple of the lads wanted to get in some early season training so Spenna , Ade and myself headed back to Port De Pollenca in Majorca. It's a chance to get away from the UK weather, get some serious training done and have a few beers!
We arrived late afternoon which just gave us time to get some supplies and settle in the digs before heading to our favourite Mombasa Bar for a few beers.
Our first day's ride saw us head up the Coll de Femenia and then push on up the Coll dels Reis. At the summit it's low cloud so we're shrouded in mist and can't see more than 50 yards. We head down to Sa Colobra and find the sunshine again as we stop for lunch. They only way back to base is up the Coll again and we complete the round trip in good time.
On the second day we again head towards Sa Colobra but take a different route at the cafe and this time head along the longer route to Port de Soller. It's a long and spectacular 14km descent into Soller where we stop for lunch. Now for the climb back out again! It's a tough but steady climb and the lads make good progress.
On the final day I opted for a spot of fishing while the lads again got out for another good workout.
Another great trip! It really is a great place to get some training in….
Gallery
Click on the image below to open the Gallery.