We awake in Auron in glorious sunshine for the long 61 mile descent into Nice. It's a stunning run down through the valley following the river all the way and peleton averages over 30mph as the target is to be on beach by 1.00pm for the 'James Bond emerging from the waves' photos.
The Hotel Le Royal is a fabulous hotel right on the front over looking the Mediterranean. I'm typing this now from the balcony with a cold beer.
The lads have just done the beach thing… but I don't think Daniel Craig has much to worry about as the steep pebble beach puts paid to their pose.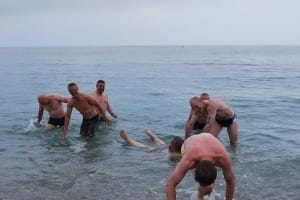 And that's the end of our fabulous trip over the Grand Route des Alpes from Switzerland to the French Riviera.
Once again another brilliant trip. Well done lads!!