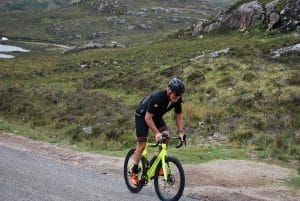 It's a cool damp start for us at the campsite so the tents are going away wet but we're in a hotel tonight at Gairloch so we can forget about them for now.
We get away from Applecross in good time but we know the road is going to be similar to yesterday, single track with passing spaces and as it hugs the coast and very up and down for the riders.
I follow Kerr as he's on camera duties today and so needs to pass the lads before he stops. I'll then track the backmarkers until I pass him and we continue the leap frogging support throughout the day.
The first section to our first stop in Sheildaig is spectacular as we round the coast into Loch Torridon but it's very knarly for the lads with lots of short sharp climbs but no real rest on the equally short descents.
Shieldag is beautiful small village on shores of the sea loch and the lads grab some cake and coffee before we move on towards Torridon for our lunch stop. But the lads make good progress and decide to press on through Glen Torridon to Kinlochewe.
This section is much flatter and gives everyone a bit of a breather before the final push to Gairloch.
After lunch in Kinlochewe we start the last section. It's only 20 miles but it kicks up at the end before descending into Gairloch and the hotel.
A very tough day, if thankfully shorter. The hotel is located right on the shore with a great view across Gair Loch and the sea beyond.
As I was getting checked in, another guest approached reception and she was none too happy… she wanted and thought she had a booked a room with a sea view! She actually said "I can't see the sea from this room". I was dying to do a Basil Fawlty and point out the herds of majestic wildebeasts!!
Oh and by the way, me and John do have a sea view!