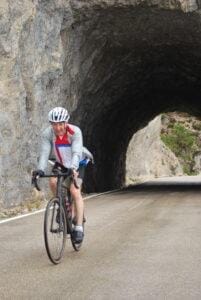 On the move again today, back up into the mountains and to Alhama.
The packing goes smoothly and we're away by 9.30. Coxy is finally feeling up to giving it a go which is great news.
It's a couple of long tough climbs today and he'll be wanting that king of the hill title back!
The climb starts pretty much as we leave Almunecar and it gets steeper the further up we go. I wait for the lads around the 10km mark and shortly after Coxy arrives. He's going well. Has normal service been resumed?
Roly is next up followed by Spenna, Ade and Marty with Steve and John bringing up the rear.
It's pretty much the same at the 20km mark, except Coxy has doubled his lead time so I know he's back in business.
The rain is intermittent at this point and we are hoping that it keeps that way. It's cooler up here so perfect conditions for the lads.
I pass the summit of this first climb and pull over about a mile down the descent. The order is again the same but once again Coxy has extended his lead.
I wait until all the lads get here and then push on for the critical left turn a few miles further down. John is now with me in the van and we wait at the junction to make sure everyone makes the turn.
Miss that and it's big descent which would take you all the way back to Granada!
Everyone goes the right way and John and I catch up to the lads in Jayena for lunch. The rain is now heavy and persistent so the lads are getting soaked and cold on any downhill sections.
The lads take the opportunity to get changed and add a layer and we set off after lunch on the second climb up to Alhama. Not as tough as the first but the rain is relentless.
Despite that we all arrive at the digs together. Another good day and a great effort from lads. And it's great to see Coxy back in top form.
We're staying in a Hostel tonight out of town and were going to just stay here tonight. There's a bar and restaurant so that's fine. We'll go into town tomorrow.
Unfortunately the bar closed at 8pm but we were able to stock up on bottles of beer and wine and take them outside and use the outside seating area.
Turned out to be a lively night!