Date: Friday 1st July
Route: Bedoin to Avignon
Distance: 89 km
Staying: Camping Du Pont D'Avignon
Blog Post: Bedoin – Mont Ventoux – Avignon
Comments: Mont Ventoux has become legendary as the scene of one of the most gruelling climbs in the Tour de France bicycle race, which has ascended the mountain fourteen times since 1951.
South from Bédoin: 1617 m over 21,8 km. This is the most famous and difficult ascent. The road to the summit has an average gradient of 7.43%.
Mont Ventoux, although geologically part of the Alps, is often considered to be separate from them, due to the lack of mountains of a similar height nearby. The top of the mountain is bare limestone without vegetation or trees, which makes the mountain's barren peak appear from a distance to be snow-capped all year round.
Route Map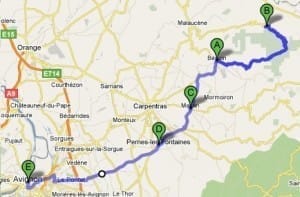 Distance 89 km
Photo Gallery