Mortirilo and the Passo di Gavia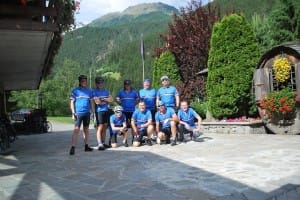 The first day's ride and the lads are hoping to be eased in. Of course the Captain has other ideas with two big passes lined up.
We start at 9;30 and I head for the first rendezvous at Mazzo.
It's the first day so I immediately drop a clanger within half a mile and find myself on the main A road, instead of the back road and miss the meet up. I find the first pass eventually and park a few km up.
But the lads need me back at the start to offload helmets, etc and the usual argument starts as to who should go to whom. There's more of them so back I head…
The climb up the Mortirilo is brutal. There are numbers on each bend and at first we don't realise their significance. The first number is 38. It tuns out that is the number of switchbacks on the climb! The famous Alpe d'Huez in France has only 21.
A puncture right at the start for Coxy holds him up and Steve hangs back with him.
I head up to the Marco Pantani memorial about 6km from the top. Pantani was famous Italian cyclist from the 90s who died in 2004.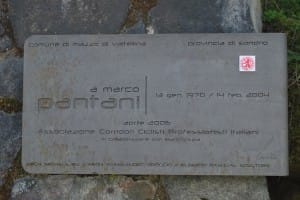 After marking the spot with a Boro badge I wait for the lads to arrive. First up to this point is Spenna, predictably, followed by Coxy who had made up the ground lost with the puncture.
Close behind are Ade, Steve and Marty then Johnno. Bringing up the rear are Blue and Colmer who have waited for Johnny G who had a problem with his gears.
We pause at the top for the photos and Blue, Colmer and John decide they've done enough for today and head back to base.
The rest of the lads press on to Ponte di Legno for lunch and the start of the Passo di Gavia. At 2652 meters altitude it's 800 meters higher than the Mortirolo.
It's another brutal climb up to the top and this time we head above the snow line.
The weather is good but it's still cold up here and the snow ploughs have only recently cleared the pass for the Giro d'Italia.
The descent is spectacular and it's literally down hill all the way back to base.
And now for this evening… England v Italy… in Italy!
COME ON ENGLAND!!!