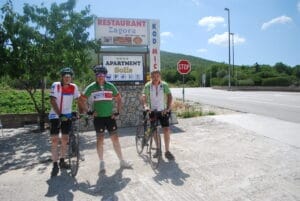 The intense heat has taken its toll on the team and today, we are down to just 3 riders, the others are getting the bus.
It's a long ride with a few tough climbs so it's pretty hardcore. The riders are Coxy, Steve and Rolly and we set off from Zadar bang on 9am. After negotiating the city we are out on to coast road to Split.
It's the only road and unfortunately, it doesn't hug the coast like you might imagine. We can see small towns and villages on the coast off to the right but we're slightly inland. And it's busy, very busy so, this is going to be grueling! The lads are gonna need water…lot's of water.
Should be no problem as I've made sure we have the same water in the van that we've had for the earlier rides with 9 riders which is 18, 2 litre bottles. They each have 2, 1 litre bottles on their bikes as well.
For me, it's going to be a day of what I call 'rolling support'. Basically, I get ahead of the lads by about 10km and then stop. I then wait till they all arrive and get anything they need from the van and then I push on again, another 10km.
Coxy sometimes widens that gap but I just wait until I pass him, and then stop as soon as I can.
Priority one is breakfast as the hotel didn't provide one so we aim to stop at the 30-mile mark to grab something to eat. At the start of this coast road there are lots of cafes and bars dotted along the road but at this distance, there's nothing on the road so we'll have to pull off.
I find a likely-looking spot and ask the locals how far the nearest cafe is. It's only 200 metres from the main road and on the beach. Perfect! I flag the lads down and we head down to a lovely little bay full of holiday makers having fun in the sea.
That's not for us though so, after breakfast, it's back on the road and the slog to the first climb about 50 miles in.
I stop again about 6 miles up the road and now Coxy starts to open a gap of around 20 minutes between him and Roly with Steve a bit further behind.
I fail to catch Coxy at the bottom of the climb but wait anyway for the other two who arrive within half an hour.
I push on up the climb and get a call from Coxy who's at a small supermarket after the summit. It's a bit hard to hear exactly so I assume it will be obvious when I get there.
The problem is even at the top there are downhill sections so where exactly is the top. I keep going up and down, slowing at any shop, cafe, bar or supermarket but don't see him so I push on. I eventually make a left turn with a restaurant on the corner so stop there.
Where is he!?
Of course, I've gone past him while he was in the supermarket and missed him. Why does that always happen !!!
Eventually, we all regroup at the restaurant and then head down hill towards Split.
Water left in the van… 4 litres!!
We arrive in good time and find the hotel fairly easily. There's ample parking as well, so easy for me.
We're now in the hotel bar chilling and will be going out soon to explore the old town soon.
As I write this blog, my son Shaun rings me. He got his results and graduated with a BSC First class honours in Computer Science. It's been a huge effort for him and I'm over the moon for him. Great news to cap off a great day!