Bedoin – Mont Ventoux – Avignon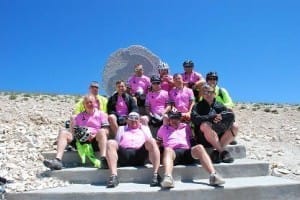 An early start from Bedoin at 8.30 for the assault on Mont Ventoux. This is the big one. We can see the mountain in the distance and it's white capped but not with snow.
Up that high nothing grows and just the bare chalk like rock is visible. It's known in cycling circles as a 'lunar landscape' and it looks pretty daunting.
Just a mile in, Coxy breaks a spoke so a new wheel will be needed at some point but he has no choice but to press on.
This time I can keep stopping and waiting for the lads to climb behind. Armed with Coxy's camera I get some great action shots.
At the half way point a couple of the lads stop to ditch their backpacks. It's heavy going and worse is to come.
Bonzo is out in front. It's the first time I've come across this racing whippet and I was surprised to see him up there. But he does look built for this lark and he's on a road bike. Coxy, Spenna and Steve K are next past. Then Billy, Ade and Wagga followed by Blue, Johnno, Marty and Steve D with Johnny and the tutu bringing up the rear at this point.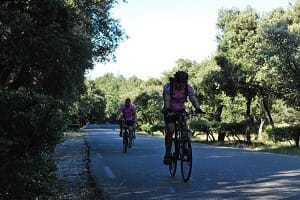 On to the top and that lunar landscape. It's a killer, you come out of the wooded area and then get clear view of the summit weather station. It looks deceptively close but the road winds and winds.
We stop at the memorial to Tom Simpson, a British Cyclist who died here during the Tour de France.
Up to the summit and it's cold, the wind is biting. All the lads said the last few miles were really hard, tougher than anything they have done before.
Bonzo makes it in a time of 1 hour 55 which is a remarkable achievement.
The rest of the lads come to huge cheers from the crowd at the summit. It's busy up here!
Special mention has to go to Johnny G wearing a pink tutu all the way up! Some English tourists at the top had passed John and were highly amused by the tutu. They said they knew he was English as he was still smiling.
Here's Johnny…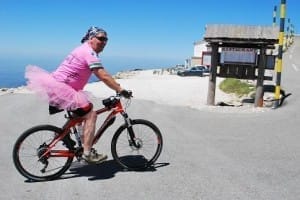 And a special mention to Johnno who battled through the pain barrier to reach the summit.