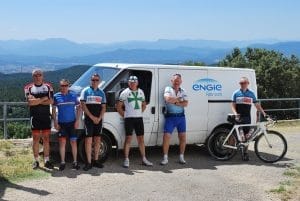 Roses was a really nice spot right on the coast and we spent last night along the sea front. All restaurants rather than bars as the Brits don't come here. But we had a good night and we awake to another hot day.
Today's ride takes us inland to Castello, down to Viladamat and on to Corca where we turn off for todays climb up to Els Angels. (I'm not joking, that's what it's called!)
We have the usual carry on at the meeting points as the sat nav takes me on to the A roads while the lads are riding the B. After a few misses we make it to Corca and stop a couple of miles further on at Monella. It's a lovely old village and the lads have a good lunch.
Now for the climb, right as the sun hits it's zenith. This is gonna be a hot one!
It's a gruelling climb in the heat but we make the summit which is actually reached by taking a right turn at the top of the road.
I confirm Coxy has taken this and then walk back down to the junction to direct the lads.
They all make it but when I return to the summit I find there's no Spenna! He missed the turn in my brief absence and carried on down to Quart.
This works out quite well as we all get to the villa together. The villa is fabulous! Huge lounge and kitchen. Great bedrooms, a pool and a games room.
We settle down to watch Cav win the Tour de France stage and are probably just going to stay local tonight. There are some bars in Quart so we'll go there for eats then return here to chill…
PS. Don't forget Howard is raising funds for the South Cleveland Heart Fund and you can donate via his JustGiving page here