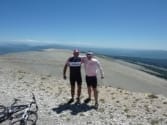 Two of the Coastbusters, Simon Ward and Billy Foy, are not going on our trip this month to the Alps. Instead they are attempting Le Jog.
That's the Lands End to John O'Groats cycle ride, a total of over 1,000 miles!
And they've got a website where you can follow along on their journey.
They are doing it for charity and you can donate from their website.
Check it out and please give generously:- Le Boro Jog