Cambo-les-Baines to Larrau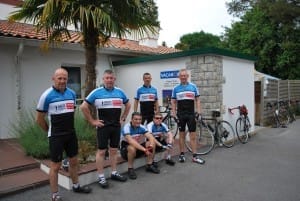 Overcast but hot this morning as we set off from Cambo-les-Baines to rendezvous at Ainhoa on the Spanish border before we cross into Spain via the Purto de Otxondo a smallish short climb on the way to the Col d'Ipseguy.
As usual the lads take one route and I another and I'm left stranded before a call from Ade alerts me they are already in Spain and on the main climb so I race to catch up. I get to the front runners before the summit and we then start the spectacular descent back into France and on to St Jean Pied-de-Port for lunch.
This was our starting point for the Camino 5 years ago and we made sure we got a team photo of the starting point again.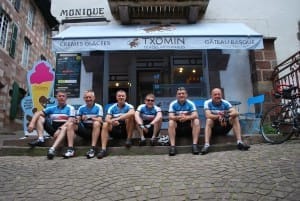 Afternoon and now for the tough climbs…
Rather than take the D18 out of St Jean, Coxy has us on the D301 and the Arthaburu summit at 1307 metres. It's an absolute brute, long and very steep in places. To make matters worse as we climb we literally disappear into the clouds and visibility drops to 5 metres. It's a hairy ride and we have no idea where the actual summit is.
On and on we climb. Is this the top? Nope. Another switchback looms out of the mist and up we go again. Finally we start to descend but it's scary as hell until we emerge from the clouds.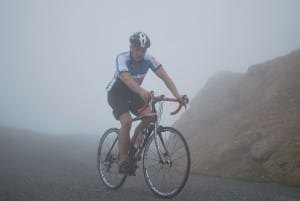 But there's still another Col to go… the Col Barargui but it's not anything like as tough as we are already very high up.
This time we are above the clouds but down below we can see an awesome sight of the valley below in a shimmering sea of cloud.
A tough day but a great start to the trip. We've pitched tents and will shortly head for the only restaurant in the village. Small place this but very beautiful.