John O'Groats Donkey Derby Day!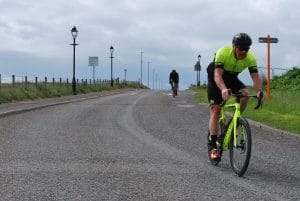 It's race day! From Thurso to John O'Groats is just a short hop of 20 miles so perfect for our usual handicaped Donkey Derby.
You know the drill, Coxy sets off last with the other riders given an earlier start depending on their ability ( as decided in the pub last night after much debate and merriment!)
Here's the start order:
Johnny G + 10 mins
Doggie + 6:30
Paul J + 6
Rozza + 5:30
Chucky + 5:30
Spenna + 4
Ade + 5
Marty + 2:30
Roly +2
Gibbo +1
Coxy +0
Kerr takes charge of the start timings and waits in the campervan while I push to the halfway mark to check progress.
10 miles in, the order is little changed but the gaps are much smaller so it's going to be a tight finish!
After Kerr passes me in the campervan to get to the finish, I follow after the last of the lads pass.
As I get to John O'Groats Kerr has marked out a finish line and we wait in anticipation for the riders to arrive. About half a mile back there's T junction which will slow people down and it's also out of sight for us down the hill…
After a short wait we spot a rider coming down at speed and there's another couple in close pursuit…but who's the leader?…
It's Gibbo again! He also won the race in Corsica in 2018 so he's showing he's a serial winner. A geat ride from him. Well done!
The finish order is as follows:-
Gibbo, Chucky, Roly, Rozza, Coxy, Spenna, Ade, Marty, Doggy and then Johnny.
So that's the end of this years trip! It's been brilliant as usual.
Thanks to Coxy, Ade and Spenna for organising such a great trip and a special mention to Kerr for the extra support in the campervan.
And well done to new guys, Rozza and Paul who have put in a great effort!