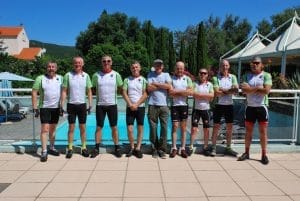 It's just a short 20 miles back to Bastia today so to liven things up we're having a Donkey Derby. Basically, a handicap.
Much debate was had last night about how much time each rider should be given and what sort or terrain to expect but we eventually settled on the following:-
John sets off first, then Kev 13 minutes later, then the peleton (Gibbo, Marty, Steve and Ade) go 2 minutes after that. Then Roly another 3 minutes and finally Coxy 2 minutes later. (So Coxy is giving John a 20 minute start and so on…)
Spenna counts them out and once Coxy finally gets going we follow after in the car 5 minutes later hoping to overtake John around half-way where we can stop and get some photos.
The road is similar to yesterday but nothing like as lumpy or twisty. However there are a number of villages on the route which slow us down with some traffic and speed humps, etc so it's close to a third of the way there before we even get to Coxy with Roly not far up ahead…
We press on and finally meet the bunch around half-way and it's obvious the four lads are really going for it, taking turns on the front, slip streaming, etc…
As we pass them Spenna holds out the board (ok, a bit of paper) with the time differential… 3 minutes, 12…. Coxy is gaining on them…
But we've still not passed John at the two thirds mark. There's only 7 miles to go. Can the big fella retain the crown he holds from our last donkey derby in the Alps?…
We finally catch him five miles out but it takes me a mile to get past him on a long down hill stretch… crouched down low over the handle bars with his belly on the cross bar… it could be Chris Froom! (or maybe it's just Johnny's belly does that anyway!)
Surely John's got this one nailed down…
We stop at the finish and mark out the sprint. Spenna's at the finish line with the camera in case a photo finish is needed and I go back up the road 100 metres to ring the bell..
Up the road is a bend so I can only see 50 metres along and here comes John round that bend. As I yell "100 METRES TO GO!!!!" the peloton also fly round the corner…and they now have John in their sights. And Coxy has bridged the gap and is poised at the back!… The sprint is on!!
They battle all the way to the line but Johnny can't hold on as Gibbo and Marty just pip him to the line.
Gibbo is our winner! So, well done to him! (But you cost me 10 Euros mate as I was backing Coxy in a bet with Spenna.)
Roly and Kev arrive minutes later and we all continue on to the digs in Bastia after a brief coffee stop.
So that's it! Another fantastic trip comes to a close. Thanks to Coxy for planning another great bike trip, Ade for organising the digs, etc. and helping with the car. Special mention for Spenna for his assistance and company (although of course, he'd much rather have been riding). And the rest of the gang for being such a great bunch of lads.