Col du Glandon & Col de la Croix de Fer
A cloudy start to the day sees temperatures down on yesterday which is good news as the lads set off to tackle two more of the famous Cols of the Tour de France.
I head off for the first meeting point at the start of the climb to the Col du Glandon. It's beside another mountain lake and there are two routes around it. Of course the lads take one route and I take the other so it's the usual carry on to arrange a meet further on. By now the sun has returned with a vengeance and we're in for another scorcher.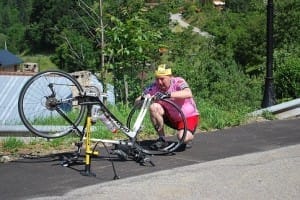 Just as the lads are setting off Johnny G gets a puncture which is going to hold him up and it's fortunate the van is right there. These new tyres of John's are supposed to be 'bullet proof' and he's not a happy bunny.
I set off and soon overtake the lads and find a spot to wait for them and make sure all are OK. It's a tough climb to get to this point but soon Spenna and Coxy arrive followed shortly after by Ade and  Steve and Blue and Marty. John, after his puncture and Colmer are bringing up the rear.
After all have gone past I push on to what I think will be a steady climb to the top. Except it isn't…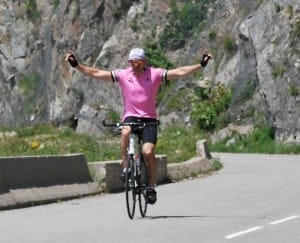 The road starts to wind down back to the valley floor again which is a great respite for the lads except that means they have to regain all that height again for the final leg to the top of the Cols.
It's a murderous route up to the 'Cols Junction'. At this point I wait for the lads to arrive. Basically, turn left to go 1 km to the summit of the Col du Glandon, turn right to go 2km to the summit of the Col de la Croix de Fer.
Spenna comes in first carrying on his exceptional form of yesterday followed by Coxy. Ade is next in followed by Blue, who has done extremely well and then Marty. Steve, who has actually broken a tooth grinding them with the effort, comes in next.
We wait a while at the top and then I go back down to make sure the other lads are OK, which proves fortunate. No-one can get a phone signal up here so I can't ring them and they can't ring me.
I first meet Johnny G pushing his bike. He's OK but just 2 minutes before he's had another puncture! Once he's sorted and on his way I head back down and find Johnno and Colmer who are struggling gamely to the top. After some water top ups we all make if back up and then complete both summits.
The ride back down is thrilling for the lads at speeds of up to 40 miles an hour and they beat me back to base.
Another awesome day and an incredible effort by the lads!