Date: Saturday 20th August
Route: Kendal to Barnard Castle
Distance : 58 Miles
Blog Post: Kendal to Barnard Castle
Comment: From Kendal we go to Orton and then stop off at the dreaded Tan Hill, scene of our nightmare weekend early in the year. After Tan Hill we ride to our next overnight stop at Barnard Castle.
Barnard Castle is an historical town in Teesdale, County Durham, England It is named after the castle around which it grew up. It sits on the north side of the River Tees. The castle was founded by the Normans shortly after the conquest, but enjoyed its heyday under Bernard de Bailliol during the latter half of the 12th century.
Walter Scott frequently visited his friend John Sawrey Morritt at Rokeby Hall and was fond of exploring Teesdale. He begins his epic poem Rokeby (1813) with a man standing on guard on the round tower of the Barnard Castle fortress.
Route Map:-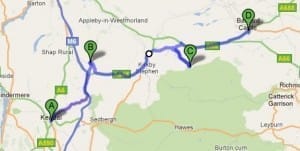 Picture Gallery