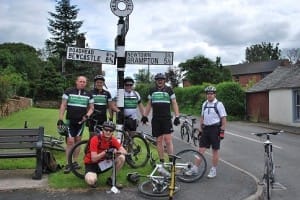 A good day today as I was able to follow the lads for most of the route until they got to Kielder Forest. More on that later…
Our first port of call was Hethergill, a tiny village North of Carlisle. It was a bit disappointing as the only pub was closed and there was nothing else, so no snacks for the lads and we press on up the tough climb to Bailey Mill.
Luckily I was following the lads up there as it is in the middle of nowhere, it's not actually a village but a riding stables that has accommodation and a bar / resteraunt. We took a wrong turn on the way and ended up going over a narrow road that was no more than track, complete with tight hair-pin bends, fords over streams and sheep running amok. It was a miracle I got the van up there but we made it in time for lunch.
Hats off to the ladies at Bailey Mill for looking after 30+ hungry lads serving up excellent meals and much needed pints of ale.
After Bailey Mill we head towards Kielder Forest and and I leave the lads at Kershope Bridge as they head off road into Kershope and then Kielder Forest.
I meet up with the advance party at Leapish Water Park on the banks of Kielder Water. It's a lovely spot but the lads have had a tough haul of the rough tracks. A several points they had to negotiate route closed signs as there is tree felling going on, Timber!…
We press on to our overnight stop in Bellingham and as I write this only the advance party of Coxy, Steve K, Ade and Spenna have arrived. Looks like it's going to be a long day for some of the others in fact it's 9.00pm when the last of the stragglers gets in.