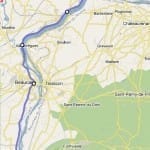 We've now prepared a route map document for each of the stages for Le Tour 2011.
The document shows a Google Map of each stage showing the approximate route we will be taking.
Also shown is the campsite or hotel that we are staying at each night and directions on how to get there.
Now, nobody has an excuse for getting lost!
You can take a look at the route or download a copy here:-