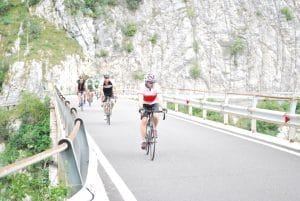 Today is the day for the big push back towards Venice. A 95 mile race to Treviso, the weather is hot, we're heading mainly down hill and away from the mountains…
However, we need to avoid the major roads and so have to thread our way on the B roads. A wrong turn could result in a major headache.
First though there's some unfinished business… Gibbo didn't tackle the Zoncolon yesterday and he's determined to tick that one off. So, he's up early an off by 6am! He goes up unsupported, makes the summit and gets back in time for us all to leave together. A great effort!
He now needs a break and joins me in the van, while Marty borrows his bike for the first half of the run.
Gibbo has the map, I have the Sat Nav and we all manage to make it to the half way point at Maniago for lunch. Gibbo now swaps places and Marty is back in the van but this all going rather too well…
The weather is blazing hot as we leave but as we head towards Aviano we can see the storm clouds in the distance and we're heading straight at them. This was not supposed to happen!
Sure enough a couple of miles further down the lightening and thunder start… and then the rain… then the really torrential stuff with hail mixed in. The road quickly become a river and the lads are forced to take shelter while we press on in the van.
The weather finally improves as we get to Cervana, then it's on to Conegliano and finally to Treviso. A tough day for the lads and everyone gets to the hotel shattered.
We'll have a look around town later…
We were going to ride to our final digs in Mestre, the mainland city adjacent to Venice but it's only a short 25 miles so we've decided against it. The roads will be too busy and there's just no percentage in it. So, the lads will just get a train from here while I head to the hotel in the van with Ade.
Also, gives us more time to explore Venice. Can't wait!
(I'll add a post about our time in Venice when we get back to the Boro)