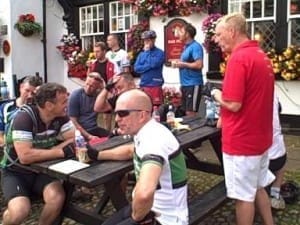 Well this is a first. Good weather!
Sunny and hot but with a stiff following breeze. Perfect for the riders.
We all set off from Carlisle for the first leg to Brampton. A fairly easy run for the lads before the climbs ahead.
No major mishaps on the way but I'm a bit puzzled as the lads arrive in Brampton from two different directions.
After a brief coffee stop it's on to the next stage with some good steady climbs ahead up to Haltwhistle.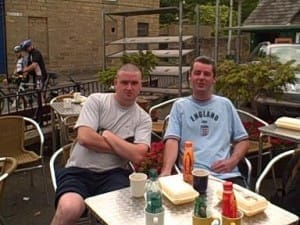 It's hard work but they arrive without mishap apart from Johnno whose chain had snapped. Running repairs ensured that he arrived OK.
Marty & Chaz had something of an encounter on route. Rounding a bend they came across a lone hiker…
"Oooooooo…. hello boys!" He shouts (in the way that only they can)…
The pair charge past praying they don't get a puncture.
The next stage to Hexham is the toughest on the whole route but there is a reward. Four miles of fast downhill at the end into Hexham.
I arrive at the hotel and find there is a football pitch with a game in progress.
Excellent. On to the terrace to watch Argentina v Celtic! Well, that was the kits they were wearing. It's a good game, with Celtic's No 6, the standout player in the first half.
All square at half-time, 0 – 0  when the first of the lads arrive. It's Stoz but he admits to having taken a short cut, so no yellow jersey for him.
Coxy and Steve K arrive shortly after and settle in for the second half of the game.
Celtic score… and it was the No 6 with a well taken strike. 1 – 0 the game ends.
All the lads arrive in great spirits following that great downhill run. No-one even mentions the preceding climb.