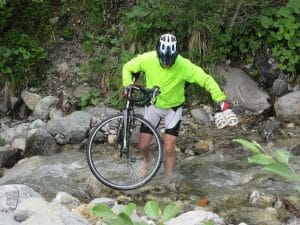 We start late today. One climb over and down to Ovaro where we are staying. From there we're taking on the famous Zoncolan which starts in Ovaro. It's going to be a straight up and down but we know it's very tough.
The route to Ovaro looks straight forward enough… but you already know what's coming, right?….
Marty is still not sorted wheel wise so he's in the van with me again and we head on up the first climb stopping at various points to get pics of the lads coming up. It's a surprisingly tough climb but everyone gets up and after a short pause at the summit we head down towards Ovaro.
A couple of kilometres down we pause at the junction to Sauris to make sure the lads don't take this turn. Ours is the next one along. It's here we see the first road closed sign for the route we are taking…
We know we have to turn off again so, maybe our route will be ok so we press on…
We get to our turn off and, whoops, it's our route that's closed. There's a bridge being rebuilt 6km down the track so it's closed to all traffic. Turning round again and taking the alternative route is an option but would be a massive detour. And we want to do the Zoncalon when we get to Avaro…
So, we think maybe it's closed to cars but can a bike get through?…
Marty and I head down in the van to check, while the lads wait for our report. But we quickly find it's not just the bridge being fixed they're doing whole sections of the road. Surprisingly as we approach they move their diggers and lorries to let us through… nice people!
We finally get to point where we can go no further and assume this route is a write off when off to our right a head emerges from the trees bordering the river. And it's got a cycle helmet on…
Up pop four more. And then up to a dozen. Turns out they're a Yorkshire cycling group and they've just forded the river coming from the other direction. Well, if they can do it so can our lads…
We report back to the lads and down they come as we head back in the van the long way round. Wish I'd seen them crossing the river but we had to crack on…
Their problems didn't end there either. On the other side they had to negotiate some freshly laid tarmac which gummed up their wheels so badly they had to stop and scrape it off with twigs and grass!
Eventually we all get to Ovaro and the digs. But there's still the small matter of the Zoncalon to tackle…
Not everyone fancies it after the day we've already had but Coxy, Steve, Spenna and Ade are determined to have a go. Marty borrows a bike and joins the party…
We head on up and, frankly, words fail me… this climb, though only 8km, is absolutely insane with gradients over 25 degrees and nothing below 10. It's definitely the toughest ever but eventually the lads get to the summit. Well bloody done to all!