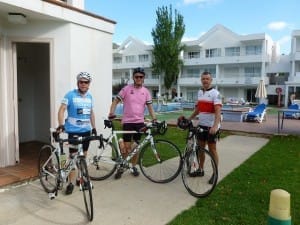 Ho hum. That was quite a night. Inevitably we found the Irish bar and there was this guy singing and playing more guitar type instruments than I've ever seen. His Hendrix was perfect and this thing he did playing the guitar with just one hand was amazing. He also did all the fiddly-dee stuff and we had a rocking night.
Ade got a brand new watch from a street trader and I've got this amazing ring with flashing lights that looks like something out of Star Trek. It was that kind of a night…
So…. we were a bit late getting started this morning. Don't tell the Captain but the lads didn't get on the road until after 11:00! They're just doing a bit of light run up to a monastery on the road which is the gateway to all the climbs here. Then they plan to head back down and maybe have a ride over to Alcudia.
I didn't go with them today and headed back into town for a walk round the bay and to try a spot of fishing. It's a really pretty bay with lots of yachts and boats, shops, bars and restaurants.
I soon find that although it's hot and sunny, it's a bit too windy for fishing (honest!). But there is footie on so I try and find a bar where I'm not recognised from last night.
The lads had a great day heading up to the top of Sa Colobra. They didn't descend down the other side, we'll save that for tomorrow. Then they head back down through the beautiful valleys and picturesque villages back to base.
In total, 54 miles in hot but very windy weather. A good work out and now it's time for a dip in the pool.