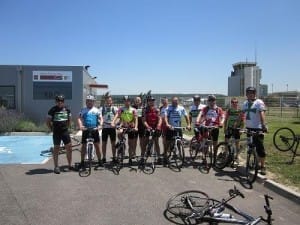 What a start! Ade and I rise at a leisurely pace. 8.00 am and with only 3 ½ hours on the road to Avignon we take it nice and easy. The lads aren't due to land until 2.00pm.
Uneventful journey until we get to Lyon where the traffic is heavy. We stop just after for a break and then get a call from Johnny G. to say they have just landed! It's only 12.30 so we need to crack on to meet them.
We arrive at the airport to find the lads in good spirits, despite the seriously hairy flight and ready for the off. It's very, very windy here. After they change and we unload the bikes they set off for Bedoin, first meeting point at Permes-les-Fontaines.
It's a nice spot and we find a cafe on the square for some lunch. Except we find out after a bit of a struggle with the lingo that they don't do food after midday until the evening. Can't get used to this continental timekeeping so we press on to Mazan.
As we head towards Mazan, Mont Ventoux is ever present in the distance. It looks ominous to me but the lads think it looks no more than Rosebery Topping. Bravado? We'll find out tomorrow.
I get to the campsite and the guy directs me to where we are to pitch our tents. Looks like the car park to me. No grass, ground as hard as iron.
The lads arrive and we begin to pitch the tents. Thanks to some industrial strength tent pegs most of the lads get their tents up ok except Billy and Wagga. Steve D and Johnno are sharing with them and they have never put this tent up before.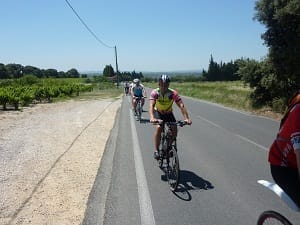 Bit hard to describe how it went but they were still at it an hour later!! After much scratching of heads and some choice language they eventually got it up. Credit to Steve K for the pilot hole to get the pegs in solution. We could have done with a concrete drill!
Eventually, we wander into Bedoin having abandoned any attempt to cook for ourselves. We have yet to find any gas for the cooker anyway.
We find a good pasta restaurant and enjoy a three course meal for only 18 euros. Very nice too.
We head back to camp but it's hard to get some shut eye due to the late night rave going on at a neighbouring camp site.
Eventually it's goes quiet but then the wind picks up again. Not sure about this living under canvas lark but we'll get there.