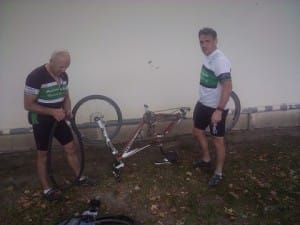 An early start for the lads as we have to crack on today. At Toulouse the lads catch a train to Tarbes. We need to do this to be in reach of the Col du Tormelet for Friday's ascent.
Still on the Canal du Midi the lads crack on to the meeting point at Castelnaudary. It's here that the canal path becomes much less rugged and eventually turns to tarmac for the run into Toulouse.
So the lads stop and after a brew switch to slicks for the race for Toulouse.
They fly on to Toulouse while I have to find somewhere to park the van.
Coxy sets the pace at 20mph for the final push and the race is on…
I've found somewhere to park behind the station…
The lads arrive at the station and we load the van and we're off.
Not very remarkable is it? Well, it is if you think about it. Not a single hitch. Now that is remarkable!!
Who won the race? I see Blue in the yellow jersey this morning…