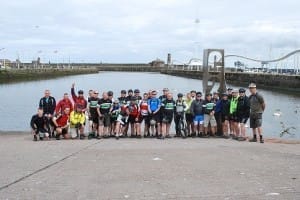 An early start this morning saw everyone arrive at Acklam Rugby Club at 6.00am to load up over 30 bikes. It was a tight fit but we managed it and then had a good journey across to Whitehaven in improving weather.
After the obligatory pose for the start pic the lads set off for the first meeting point at Cockermouth. Except Howard who had left his phone on the bus and was waiting for it to return.
No-one got lost on the first leg but we already have one injury. Charlton came a cropper negotiating a gate and took a tumble and ended up with a nasty graze on the shin. Back to the van for the first aid which proved good timing as I was about to get a parking ticket.
After Coxy had done some running repairs on a few of the bikes we set off for the next meet at Hesket Newmarket. We've done this route before but I still managed to get lost and after half an hour found myself back in Cockermouth. Time for the Sat Nav.
I arrive just in time for the advance group of Coxy, Camma, Bonzo and Steve who have had good ride over the climbs of the Lakeland hills.
The rest of the lads arrive at various intervals after that but we are missing Howard who has buzzed in and decided to head straight for Carlisle after missing a turn.
On the way into the village all the lads noticed the grim way that the local farmers deal with foxes. String up over a fence!
Paul had had some problems with his gears and has had a few tumbles as a result. More repairs needed when we get to the hotel.
We make the last stop off at Dalston just in time to see Wiggins and Froome come in 2nd and 3rd in today's decisive leg of the Tour. Only accident can stop Wiggins now!