Bourg St Maurice – St Jean de Maurienne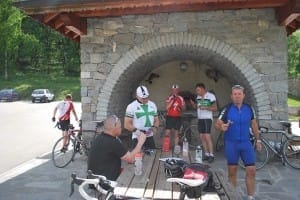 We've had to change plans today as the planned route past Val d'Isere to Lanslebourg is impassable and due to deep snow on the Col d'Isern.
We have re-routed to the start of tomorrow's climbs at St Jean de Maurienne. The lads are having to get 2 trains around with the bikes while I drive the van with all the bags and camping gear. John and Ade are with me and we arrive just after midday. The lads aren't due in until 2:00 so we've been able to sort out a new camp-site and nearby hotel.
But we aren't skipping the climbing…not allowed. So, Coxy has found an alternative route up to the Fort du Telegraph, which the famous Col takes it's name from.
We'll set off as soon as they arrive… but we've just heard their train has been delayed for an hour… so we're pitching tents to save time later.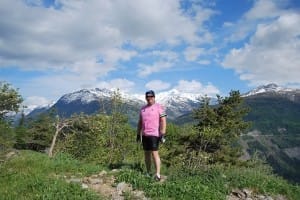 The lads arrive just before 3 and set off immediately for climb to Montricher and then on to the Fort. It's another tough climb but this time in blazing sunshine and we can now see the spectacular mountain tops all around.
After I arrive at Montricher I head back down in case there have been any problems, lucky for John as he's had a puncture and has no pump. Once he's sorted I head back up to the village only to find that the lads have discovered there is no actual route to the Fort from here. So, instead they head off to a viewing point 7km further up and are rewarded with spectacular views across to the Fort over the valley.
It's a brilliant descent back down to St Jean and as usual the lads beat me back to the camp site.