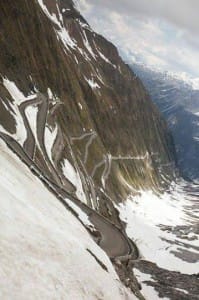 At last the time is almost upon us! Tomorrow morning, bright and early, Ade and I start the long journey to our base camp in Bormio, Italy.
We'll be travelling through France and the whole length of Switzerland to reach our destination around 5 pm on Friday afternoon. It's going to be some journey. The lads fly out Friday and will rendezvous with at our camp site.
Bormio will be our base for a series of rides over the following week. The lads will be tackling a number of cols made famous by the Giro d'Italia including the The Stelvio Pass shown here.
Log cabins this time so a bit of luxury and….it's the World Cup!
Who do we play Saturday night? Italy of course!
COME ON ENGLAND!!
Don't forget to keep coming back to the blog for daily updates of our adventures…