Another beautiful day in Argeles and we're up with birds to unpitch and get ready for the legendary Col du Tourmalet, one of the famous climbs of the Tour de France. Of course we've done it before, 4 years ago, on our second overseas trip. But this time we are going at it from the other direction. And we know from the previous descent how tough this climb is going to be!
No snags on route and we meet at Luz-St-Sauveur for the start of the 17km ascent and here we learn that two years ago the Tourmalet road was shut as it had collapsed in several places due to severe flooding. A bad winter followed by a warm spell with heavy rain meant the river had become extreme and the evidence was all around on the way up.
The river was totally scared on both sides way above it's normal level and the damage caused was evident with torn away banks, boulders everywhere and even damage to houses. They are still fixing things up now.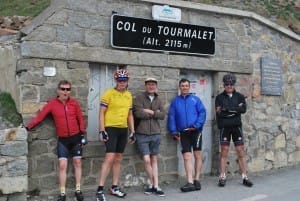 It's a long slow drag up for the lads and the road gets even steeper for the last 4km. Definitely the tougher side of the Col but once again awesome views from the summit and another spectacular descent to come. We stop at the ski resort of La Mongie for lunch and then head down to Ste-Marie-de-Campon for the start of the Col d'Aspin.
Thankfully the second climb is shorter and more gentle and lads arrive fairly quickly. We descend into Arreau and get the tents pitched up by 4.30pm. Just as well as I'm now sat in the van typing this in a torrential downpour, complete with thunder and fork lighting. Let's hope it passes soon or we're gonna be stuck here with no grub or beer!!
Late addition to this post – Argh disaster has struck. The rain has burst the drain and there's a stream of raw sewage inches from the tents and it's rising and stinking. We gotta move and move fast!!!!
Frantically we un-peg the tents and man haul them to higher ground and make it just in time. The rain stops and we can at last get properly sorted and head into to town for eats and drinks. I gotta feeling there's more drama to come later as the thunder continues to rumble in the distance. Are we in for a soaking on the way back later…
By the way soz for the lack of pics yesterday and today. I'm having problems getting wifi access and had to to do yesterday's post using my mobile which was fiddly to say the least!