After last night's downpours we wake to dull overcast weather with the clouds down low and we can't see the mountains all around. The tents are soaking but fortunately it's not raining as we unpitch. But the tents are wet and everything is damp. Hopefully the sun will be out when we get to the next camp site and we can dry things out…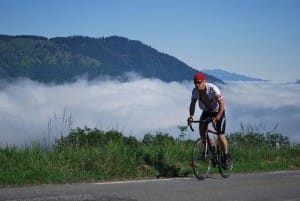 We crack on, on the gentle ascent to the start of the Col de Peyresourde with the weather still grim but as we start the climb proper we begin to climb above the clouds which, once again provides an awesome view down through the valley below.
After taking some pics 3km for the summit I chase on up after them picking them off one by one… but three are missing… errr… how's that happened!? There was only one turn off and that was to the the ski resort of Peyragudes…
Sure enough, I turn back and find Ade, Steve and Johnny half way up that col and get them back on track. They're getting col happy!!
We push on to the top and then head down to Bagneres-de-Luchon but it's too early for lunch and we have two more cols to go…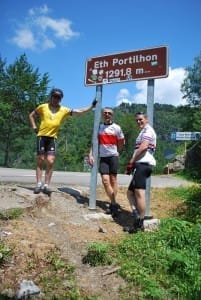 Next is a tough climb up the Col du Portillon and over the border into Spain. The border is the summit and we then descend into the fabulous Val d'Aran and down to Vielha for lunch. Spag bol all round except for Johnny G who opts for spaghetti with chicken curry. Unusual!
Next up is the long steady ascent of the Port de la Bonaigua but the thunder clouds are gathering again and chasing us as we climb…will we get down in time?…
Coxy and Spenna arrive first at the top and head straight down to avoid the rain… but it's already raining as Steve and Ade set off down… for Marty and John, it's the van and we head down in torrential rain with fork lightening on all sides…this is gonna be hairy!
We pass a soaked Ade and Steve but can do nothing to help, they just have to press on and suffer… we find a frozen Coxy and Spenna sheltering in a petrol station at the bottom but we still have a few km to go to Esterri d'Aneu. So it's gonna be a shuttle job.
We head in the van and find the camp site and I drop John and Marty off with their bikes. Then it's back for Ade and Steve who did the whole descent in the worst of it. Finally back for Coxy and Spenna… but we ain't gonna be camping tonight!! Tents are already soaked so it's in to town to find a hotel…
But every cloud has a silver lining and I type this now perched at the hotel bar, we eat in a few minutes and then the footie is on… Barcelona shirts dotted about… think we're gonna support Juventus…come on!