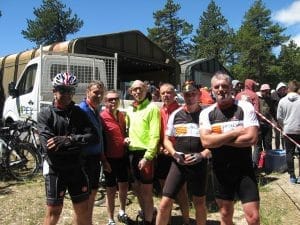 Well we're back on the famous Mont Ventoux, the second time for most of the lads but a baptism of fire for Howard who is riding this for charity.
And it's the Tour de France on Bastille Day!
Our original plan to get the van up the night before was a non starter so it was an early start for the lads at 7:30 and they make good progress to Bedoin for the start of the climb. We already know the summit is out of bounds due to very strong winds and they Tour will finish 6km short of the top.
They make steady progress up slowed by the huge crowds already on the mountain and heading up and they eventually make it as far as Chalet Reynard near where the race will finish and very significant for what was to come…
The lack of supplies proved to be no problem as there were many mini bars and barbecues so the lads lacked for nothing as they waited for the Tour riders to approach.
There was even TV up there to watch the race progress.
The breakaway riders were given too much time by the peleton and the race was won by De Gent from that group.
The real drama happened further back among the GC contenders as Ritchie Porte collided with a motorcycle stopped dead by the manic crowds and then race favourite Chris Froome piled in to that melee and wrote his bike off…
That didn't stop his progress though as he just ran on up until his support team could get him a replacement bike. All this happened right in front of where the lads were standing!
It's looked like he'd lost the Yellow Jersey but good sense prevailed and he was later reinstated.
Once the last riders had passed the lads had to struggle down amid all the bedlam as everyone came down at once. They eventually got back to the hotel at 10pm too late for anything other than a few cools beers from the van in the outside garden.
First time watching the Tour live and it did not disappoint!
Special credit to Howard for making it up and don't forget to visit his Just Giving page to give him your support.