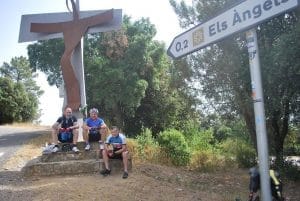 Half the lads have decided to have a day off today and explore Girona so it's just four on today's ride, Coxy, Steve, Roly and Howard.
The first part of today's ride takes us back over the Els Angels climb to Monells. Just as I follow up and catch Coxy (after stopping to take some photos ) he is catching another rider he has been chasing down.
But as Coxy passes the rider he jumps on to Coxy's wheels and the race is on!
I manage to get past them and up to the summit in time to see the climax. The guy is still on Coxy's wheel with 50 metres to go when he puts the burners and tries to get past. But Coxy turns on the power, holds him off and is first over the line! A great finish!
We then head to Monells and on to Begur. We were thinking this road would be mainly downhill to the coast but it's the opposite, a long steady climb in a lot of parts.
We then descend the spectacular road down to Sa Tuna for lunch. No sign of Howard who calls shortly after and he's in Sa Riera which is the next bay along. Of course he'd have to climb back out of there to get to us so decides to stay put. He's done his bit for the day and I go and collect him when we begin the journey back.
This gives Coxy, Steve and Rolly at least half an hour start and I assume I'll only catch them on the next climb out of Sant Santurni but I get over that and there's still no sign so I head back to base assuming they would be there.
Except they're not!… They had stopped for a cooling drink and ice cream back in Cruiles and I go past without spotting them as the main rode skirts the village. Sods law again!
But all ends well when they get back to the villa just half and hour later. A really good day!