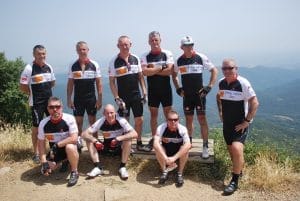 Today's ride is the big one. Not so much in total distance but on the length and hardness of the climb. We head out for Banyoles and make good time to the turn off to Pujarnol and the start of the 13 km climb to the top.
It's red hot so this is gonna be a tough one. It's fairly steady progress to Pujarnol but it's just after here that the official road ends.
Up to the top is an unpaved road which was only tarmacked in 2006. Lance Armstrong used to come up here on his mountain bike and pressure from him resulted in the road being improved so it was possible to get up on a road bike. The climb has now become legendary in the cycling world.
From here it ramps up and gets steeper and it's very tough going for the lads. Eventually we get up and all agree that this has been one of the toughest yet.
But worth it. What a view! There's a panoramic vista looking down to Banyoles and the Olympic lake… we take some great pics and I even get up on the van to get the best perspective.
It's a sheer drop down the side but there's a ramp that's used by hang glider pilots for take off. Of course Coxy has to get that shot hanging over the edge… no one else wanted to pose for some reason….
After a well earned rest we head back down the hairy descent and back to Banyoles and lunch by that lake. It's a great spot and the lake is crystal clear in the edges and you can see huge carp cruising the margins. Wish I'd brought my fishing gear!
What a great day!
And what a great trip! Thanks again to Coxy for organising, Ade for helping with van, Spenna for the great meals and Johnny for being Johnny. And of course all the other lads for the great effort and company.
A special mention to Howard who was riding for charity. Well done to him! Please visit his Just Giving page to give him your support
And to Engie Fabricom for the use of a free van for trip.