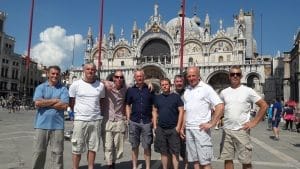 No riding today for the lads so they head for the train station while Ade and I take the van to the rendezvous at our hotel in Mestre which is on the mainland.
All goes smoothly and we drop our gear off at the hotel and head to Venice. We take the bus which takes you over the causeway to the island and then get a river taxi to take us round the grand canal to St. Marks square.
The views are spectacular coming round and in and we then spend some time in the square before having lunch overlooking the famous Rialto Bridge.
We then decide to head out on the boat to Lido island and have a few beers overlooking the view back to Venice.
Then it's back on the boat returning to Venice but via a different route this time and this one is even better taking you under the Rialto bridge and past all the major sights.
It really is an amazing place but we're all totally bushed from the trip and decide to head back to Mestre, a few more beers and the hotel.
Once again an amazing trip!!!
Well done to all the lads and thanks to Coxy for organising another classic!