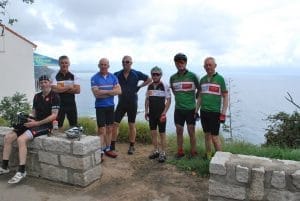 A steep climb out of Porto is in store for the lads as we head out on the D81 which is a 'must do' coastal route. Should be spectacular!
Although this first climb is much shorter than yesterday it's much steeper with short sharp gradients around the hairpins. It's hot as well, very sticky but the odd rain shower as we go up helps keep the lads keep cool.
The further up we go the more rugged the scenery and the road is getting narrower in places with only room for one vehicle. It's a tourist route as well so that means coaches and Sunday drivers pulling up where they like. It's pretty chaotic at the top but I manage to find somewhere to stop for Spenna to take some photos.
I'm not really in a pull-in and we get moved on by the Gendarmes. I dunno?… Sunday driver pulling up where I like!!
We push on down to Cargese where we meet the lads and have a coffee in a bar with an outside veranda overlooking the Med.
It's then along the fabulous coastal road to Sagone for lunch where we rest before the next climb up the Col de Bastiano.
This climb is just as tough and Kev has to get off for the last 400 yards and walk it. He's ok though and the lads push on down hill to Ajaccio. We find the digs ok and we're now just chilling in the hotel bar at the Marina.