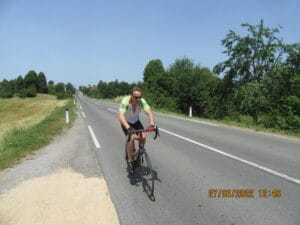 Today we cross the border into Croatia and finish on the coast at Rijeka. To do that though, it's 120km in 30 + heat with some small climbs on the way.
First for me though is the annual find a bike shop challenge. I love these!
Spenna broke a spoke and buckled a wheel yesterday so it needs fixing. He's not in the van though, Doggy is. Spenna is going to use Doggy's bike for the first half of the ride, while Doggy jumps in the van with me to try and get this wheel fixed.
No problem, there's a bike shop just a few minutes away. Except they can't fix it. So they point us in the direction of another bike shop 5km away. We head there but again they can't fix it. They suggest another place 4km in the other direction so we head there.
This is the last chance but happily, the guy fixes the wheel and we can get on our way after the lads. We're some 2 hours behind them now though and won't make the first rendezvous at Logatec so we push on to Postojna.
It's a big town and I'm thinking we'll struggle to find the lads easily here but Doggy spots Rolly at the side of the road and we pull over for refreshments at a cafe.
We're still waiting on Johnny but he arrives just as the lads are heading towards the border. He's gonna take a turn in the van so Doggy now gets ready to ride the rest of the route, as Spenna will be riding his repaired bike.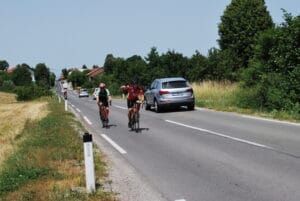 It's been a really grueling ride for all the lads in stifling heat but we still have 34km to go. We stop before the border at Ilirska Bistrica to regroup and have lunch. All the lads grab their passports from the van and make their way to the border crossing and I follow behind. It's only a few kilometers…
It's been difficult for me on this trip to keep close contact with the lads as they have been on bike paths and small roads whereas Google Maps puts me on motorways and toll roads so today I changed the settings to exclude those and this worked quite well to this point…
The problem is (and I didn't know this at the time) there's a toll road immediately after the border!…
So, the satnav tells me to make a left turn a couple of km short of the border. I think I must be following the small road bike route so I push on. Up and down a mini-mountain pass with hairpin bends until it tells me to turn right up a gravel track!
This reminds me of the smuggler's route we went over in Andorra a few years back. No way am I doing that again!
So, I turn around and rejoin the main road, fix the setting on Google maps, and cross the border. They did stamp all our passports as well. We were debating whether they would last night. They stamped mine twice just to be sure!
As I'm now back on the motorway I know I won't see the lads again so I push on to the hotel in Rijeka. I arrive about 4pm and drove straight into a parking place outside the entrance. Result!
Just after I'd checked in Coxy, Marty and Spenna arrive having made good progress on the last leg. The rest of the lads are not far behind so we can get out a bit earlier tonight to have a look around this port city.
Hopefully, on the next coastal legs of our journey, I'll be able to keep in much closer contact with the lads and get more photos and report on their adventures.