Date: Friday 19th August
Route: Walney Island to Kendal
Distance : 42 Miles
Blog Post: Walney Island to Kendal
Comment: After departing Walney Island, we first stop at Ulverston going on to Grange over Sands and then finish the day at Kendal.
Kendal is listed in the Domesday Book as part of Yorkshire with the name Cherchbi. For many centuries it was called Kirkbie Kendal, meaning "village with a church in the valley of the River Kent". The earliest castle was a Norman motte and bailey (now located on the west side of the town) when the settlement went under the name of Kirkbie Strickland
The site of several (ruined) castles, the most recent one constructed in the late-12th century, Kendal Castle, has a long history as a stronghold of one kind or another. The castle is best known for being the home of the Parr family. The Parr's inherited the castle through marriage during the reign of Edward III of England. Rumours still circulate that King Henry VIII's sixth wife Catherine Parr was born at Kendal Castle.
Kendal is known for Kendal mint cake, a glucose-based type of confectionery reputedly discovered accidentally by Joseph Wiper during his search for a clear glacier mint.
Route Map:-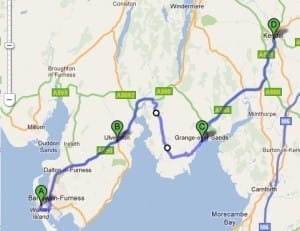 Picture Gallery