Date: Thursday 19th July
Route: Whitehaven to Carlisle
Distance : 53 Miles
Blog Post: Whitehaven to Carlisle
Comment: After leaving Whitehaven, we first stop at Cockermouth going on to Hesket Newmarket and then finish the day at Carlisle a distance of 53 miles.
Carlisle, the Border City, is the main shopping, commercial and industrial centre in the northern half of Cumbria, and a fair amount of southern Scotland.
The Romans established a settlement here, primarily to serve the forts on Hadrian's Wall. In the 12th century, King Henry I allowed the founding of a religious establishment, later making the town a diocese, and thus making the Priory into a Cathedral.
Carlisle Castle is a great medieval fortress that has watched over the City of Carlisle for over nine centuries. The Castle was home to Cumbria's County Infantry Regiment, the Border Regiment and the King's Own Royal Border Regiment and local Militia.
Route Map:-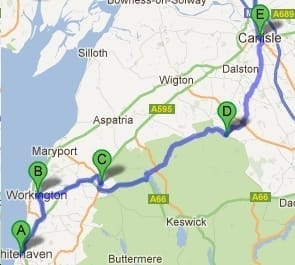 Picture Gallery