…. I should have known what was to come after leaving the lads at the start in Barnard Castle and then driving to the first rendezvous at Kirby Stephen. The weather across Bowes Moor was really bad. Very high winds and torrential rain.
It didn't take me long to get there so it's the usual wander up and down the hight street for me.
Ade buzzes me at 3.45, about 15 minutes before I was expecting them and lets me know there's a problem. The lads plan was to use a disused railway line to get from BC to Bowes. Trouble was it is now so overgrown with weeds and nettles (particularly nettles) that it's impossible to cycle. All they can do is wade through the nettles:-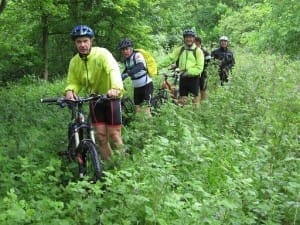 So, they had to take a detour:-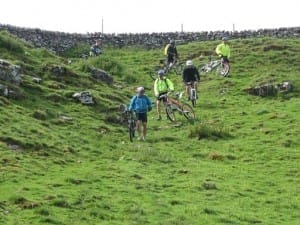 And then in the distance, is that road? Let's head for that. Except it wasn't a road at all. It was stream so they had to wade through that before finally getting back on track.
I'm told to plough on to the Tan Hill Inn which is a far longer journey that I thought. It's only about 12 miles from where I am put it takes 3/4 of an hour along a single track road invested with sheep.
Talk about remote! This place is straight out of American Werewolf. And it's shrouded in mist (cloud really) with a howling gale and horizontal rain. And the field where we are to pitch our tents looks like a peat bog on the side of a mountain.
The lads turn up only about 15 minutes after me so we get straight to pitching the tents, taking note that the tents already there are being held down with large rocks.
So, it's in to the pub for some Ewe Juice (yes, really) and this place is packed. Who the hell would come all the way out here? It's a mixture of the walking crowd, a few fellow bikers and people coming for meals. Some are even here for the band that's on later. Things are looking up!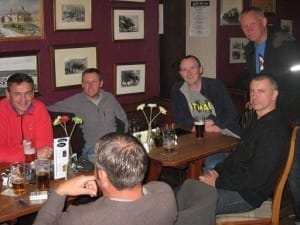 We manage to muscle in on a table next to the TV, handy as the Champions League final is on later, and we settle down and order food. Rump Steaks, roast chicken, the usual.
What followed reminded me of Fawly Towers. First she comes back and the steak is off, they've ran out, then the chicken's off, then the mince… lamb is available provided you go outside and catch your own! We settle for what sounds like a tempting brazed steak casserole but it's… well… it filled a hole.
So, we're all set for the big game. Barcelona are just too good for Man U but it's a good game with some great goals. After the match we decide to give the band in the barn a miss (we could already hear them) and commandeer the bar area to entertain the locals and their sheep which hang around the smoking area and hassle people on the way in.
It's a good night, tempered only by the thought of having to return to the tents which we do when they run out of Ewe Juice. None of the tents have blown away yet but it's the worst night I can remember. The noise of the wind and rain, ducks quacking (what are ducks doing this high up) and then the bloody cockerel at 4 in the morning.
So, we're up early and keen for breakfast but we didn't pre-order the night before so nothing doing. A quick dash back to Barnard Castle it is.
But 10 minutes in Ade comes a cropper on a steep downhill with a sharp bend at the end. Knowing he can't make it he opts to try and jump the ditch at the side of the road but his wheel catches it and it's head over heels and multiple somersaults into the mud.
Bike wrecked and badly bruised Ade get's a lift back to the Tan Hill Inn from a kindly van driver who witnessed the crash.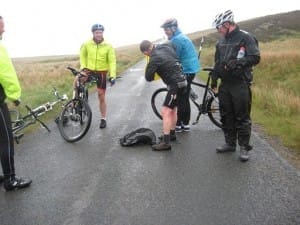 I go back and pick him up and we make our way to BC to meet up with the rest of the lads for breakfast.
The lads are there before we are having enjoyed a good off road run, down-hill and with the wind behind them at last.
Something always happens on our little trips….
Tan Hill Photo Library