Date: Wednesday 6th July
Route: Carcassonne to Toulouse (then train to Tarbes)
Distance: 98 km
Staying: L'europeen
Blog Post: Carcassonne – Toulouse
Comments:Tarbes is a commune in the Hautes-Pyrénées department in south-western France. It is part of the historical region of Gascony.
To the south of Tarbes is the pilgrimage town of Lourdes and the border with Spain. The Pyrenees mountains, lying along the border between France and Spain, can be seen from the town.
The 2009 Tour de France included Tarbes as part of its route.
Route Map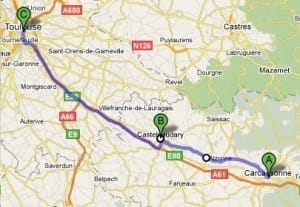 Photo Gallery