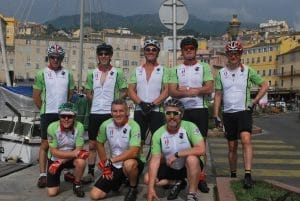 Hot start this morning in Bastia and it's round to the harbour for the start. Busy traffic on the roads at first as we basically head back towards the airport for the turn off for the T20. No mishaps and we head on to our first meeting point at Francardo and then on to the D84 which is the Col du Vergio.
Spenna and I push on to Calacuccio in the car and it's a steady climb up to the village but just before we get there we get a call from Kev. He's pulled up with cramp in both legs and needs assistance. So I drop Spenna off with Coxy and Roly who are already there and head back down for Kev who is about 2 km back.
I pass the other lads on the way up, pick Kev up and then return to the village for lunch. We now have a problem as the hire car is full up and we'd struggle get two passengers in with all the gear and Kev's bike. So Spenna decides he's gonna do the rest of the climb despite his recent collar bone break! There's no putting him off so Kev jumps in with me and off we go.
After we pass the lads we stop off to take pics as the lads climb up behind us but have to press on to the top before John gets to us. We eventually make the top just as Roly and Coxy are arriving and then wait for the rest of the lads.
The other lads arrive not long after and then they all head down towards Porto. Spenna doesn't want to risk the downhill so Kev's back in the saddle and me and Spen wait for John… and wait… and wait…
Something must be up so we head back down to look for him. Down we go…and down… and down… where is he!!???
We get all the way back to Calacuccio and still no sign and we can't get him on his mobile. We must have missed him somehow so we head back up. The lads are now in Porto and waiting for their gear. Spenna and I eventually get there speeding down the spectacular descent to the sea.
Happily John is already there. He'd popped into a cafe for a coke and sods law, that was when we went past! And his phone had packed up! Still… a great start to the trip and we now sit for our meal overlooking the ocean…