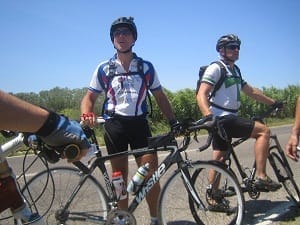 Scorching hot today, 30+ as the lads set off from Avignon at 9.30 and head to the first rendezvous at Les Baux. Couple of tough climbs on the way up in heat but it's worth it when they get there.
Les Baux is a small medieval village with a castle that was once the home of the Monaco royals.
It's an impressive sight and the small cobbled streets are packed with restaurants and trinket shops. It reminds me a bit of the quiet side of Whitby.
We pick a restaurant with a roof terrace over looking the valley. The food is excellent all round. The lads have steak, Ceasar salad and king prawns. It looks and tastes great!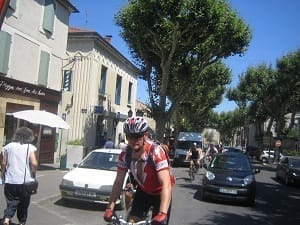 The next leg down to Arles is both shorter and easier and we arrive at the campsite together. It looks a nice site and the lads are straight into the pool after pitching the tents.
We have a great evening with our own barbeque. All the lads were impressed with Wagga and Blue's cooking skills. This ain't the kind of camping grub I remember!