Passo Del Bernina Circular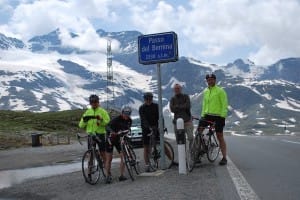 Today we tackle out first Swiss Alpine pass, the giant Passo Del Bernina on the road from Tirano in Italy to the famous St. Moritz ski resort.
For us it's a circular route from Bormio down to Tirano than up into Switzerland to the top of the pass before heading back down a few km and turning back into Italy to Livigno and then back to Bormio. Simple, right? Not quite…
The route down to Tirano is downhill and the lads arrive at the town only 15 minutes after I do so we head straight up the pass which initially is a long slow drag up. It's a main road with heavy traffic and at this point not very scenic and a bit disappointing.
I head up and stop half way up when I get a call from Johnny G whose had a fall and is struggling. I head back down and find him ok but dead on his legs. The previous rides are taking their toll and this climb is much tougher than it appears.
He gets in the van and we head back up now behind the lads who are all finding the going tough. Johnno is the next casualty. He's having mechanical problems and decides enough is enough. Another passenger for the van.
We chase on up and find the rest of the lads strung out on the final stretch to the spectacular summit. And then it ramps up getting steeper and steeper as we approach the right turn into Italy and Livigno.
Spenna and Coxy are still ahead of us but we've passed Ade and Marty, who are riding together and Steve who is ahead of them.
We finally arrive at the summit after 21 miles solid climbing but where is Steve? He was ahead of Ade and Marty but no sign of him. We assume he's taken the earlier right turn into Italy and on to Livigno so we eat lunch where we are at the top of the pass.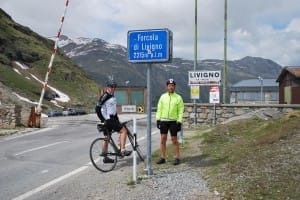 After lunch we head back down and and take the Livigno turn first climbing up to the top of the Forcola di Livigno pass and then downhill to Livigno. But there's still no sign of Steve… we assume he's pressed on so Coxy heads off after him.
Spenna has still to eat lunch so we leave him at a restaurant while me and the passengers find petrol. We're just about on empty and we know fuel is cheaper here.
Diesel in Italy is seriously expensive at around 1.70 euros per litre (1.30 in France). But Livigno is a tax fee zone for ancient historic reasons and we find fuel at 1.02 per litre (80 pence!!). Fill her up Jacko!!!
Spenna, Ade and Marty begin the climb out with me in support while John and Johnno also get grub in Livigno. I'm going to follow the lads up to the top of the next pass and then go back for the passengers. That way no one is hanging around for anyone else.
This works well and we chase the lads down the long decent back into Bormio. But where had Steve got to?
Turns out he had taken the Livigno turn before the top of the Bernina, ridden to the top of the Forcola di Livigno and waited there. He then came back to the pass but not finding us had returned to Tirano and then Bormio in the opposite direction!
A very tough day for all, on top of the tough rides we've already tackled this week. So tough in fact that the Captain has given us tomorrow off!!
Spa time for the lads…