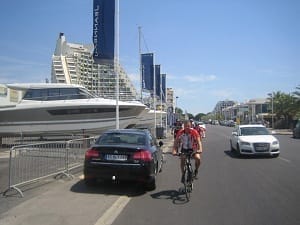 Another scorching day as the lads set off early from Arles with 75 miles to go.
I need to drop Bonzo back at the airport as he is sadly going home today.
All the lads agree he will be sorely missed and wish him well on his way.
Then it's on to the first meeting point at Aigues-Mortes. The lads arrive at the same time as me having flown along to the halfway point. All really enjoy the ride in the fantastic weather.
Next stop is Palavas on the coast and it's pretty spectacular. Beautiful sandy beaches and loads of cafes and bars overlooking the ocean.
The lads enjoy another fantastic lunch and set of for Sete where we are staying for the evening.
I'm there now and it's another great spot. The hotel overlooks the sea with a bar opposite perched on a small cliff.
I think we're in for another good evening.
And so it proved. It was the usual march to find the real city. Up the back streets to find some of the out of the way places.
Playing pool (Spenna won) and picking some choice songs from the French jukebox.
A good night was had by all.