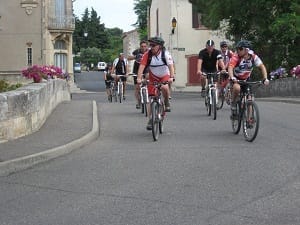 The lads set off from Sete and head for Agde where they pick up the Canal du Midi which they will follow for the next three days. At Agde a cycle path runs alongside the canal but this soon turns to rougher terrain.
In parts exposed tree roots make the going uncomfortable but the lads have a good run to Beziers where they stop for lunch beside the 'eight locks' which is an impressive feat of river navigation.
Next they move on to Poilhes where I had been waiting and doing a bit of fishing. Just before they arrive I caught a cat fish which I threw back (as you do). Of course they don't believe me despite the photo. They think I bought it from a shop.
We get the kettle out and have a brew before moving on to Argeliers where we are staying in a Gite. It's quite a place with a large first floor area with a pool table.
We go to the restaurant for our evening meal and enjoy a good meal and crack before returning to the Gite for the inevitable game of Killer, some good crack and dance moves. It was quite a party!