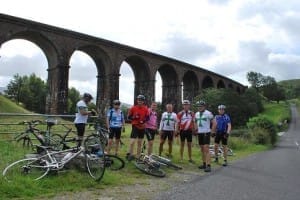 We had a great night in Kendal after we had all met up at the local Weatherspoons. On to another pub for a game of Killer on the pool table which Farley won.
Then we found a place playing live music with a pretty good band on who did a whole range of covers from the Beatles to Bowie, the Rolling Stones to The Jam.
Everyone had a great night!
Up early and away by 9.00am this morning as we have a good 60 miles to do and some big climbs over the Pennines.
Off to the first rendezvous as Beck Foot which is just under the M6 and has a classic old viaduct. Everyone arrives safely for the photo shoot. Except for Stoz that is. The lads head off on their route under the viaduct which I can't follow as the track is too narrow.
I head off for Orton via a different route and as I meet the next junction I spot Stoz and point him the right direction towards Tebay.
Everyone arrives at Orton OK though some took a short cut. Another stewards inquiry later. No sign of Colmer and Dean though.
Unfortunately Colmer's chain had snapped and they were stuck in a tiny village called Roundthwaite. I managed to find them and once Colmer had grabbed the spare bike (its Johnny G's who arrives today) the were back on route.
On to Kirkby Stephen and the dreaded climb up to the Tan Hill inn (1700+ ft). I pass Coxy part of the way up and wait nearer the summit for action shots.
Once he goes past, Steve K is not far behind followed by Ade and Spenna.
I get some good shots of all the lads coming in which I'll put in the site later.
The lads split on the way down from Tan Hill. Those with nobbly tires take the off road route while the bulk go the long way round by road.
And what a road! It's all down hill from Tan Hill we think… except it isn't. This road is the closest thing to a rollercoaster I've ever driven on and very tough going for the lads. Harder than the climb up to Tan Hill according to Steve K.
All now in our digs at Barnard Castle and we are meeting up at the The Old Well Inn where the bulk of the lads are staying.
An easier day tomorrow? It must be…