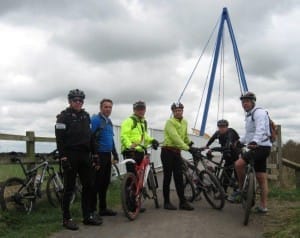 Its a cold start to the year as we meet at the Coronation Hotel at 8am on Good Friday, the plan is we get dropped off in Consett and peddle home via NCN 14 to Durham then pick up the NCN 1 along the Castle Eden Walkway to Stockton then home, 50 miles. This is a reconnaissance mission for the C2C in July as this our route home from Newcastle on the last day.
Its freezing in Consett (as usual) but we're soon under way picking up the route along an old rail line to Durham, a couple of wrong turns one of them putting us in a farm yard ! We are soon in Durham and stop for coffee. Out along the river to Haswel looking for NCN route 1, another wrong turn so we finally get the map out, a quick recky and we're back on track.
The route is fast and by 1pm were at the visitors centre at Thorpe Thewles, another Coffee then its the final leg through Stockton. Still time for a wrong turn and we end up back in Thorpe Thewles! After realising our error we're off again sprinting through Roseworth and on passed Holme House prison to the Tees Barrage then home.