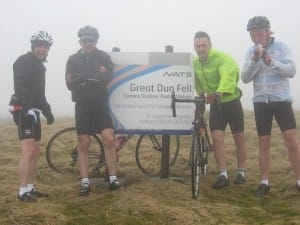 Another Bank Holiday weekend and another bike trip. This time we set off in the cars to Kirkby Stephen for the start of the route to what is one of the toughest climbs in the UK. A small group this time with Coxy, Ade, Marty, Spenna and Steve as the riders, Johnny G and myself in the support car.
Great Dun Fell, at a height of 2,782 feet is reputed to be England's answer to Mont Ventoux lying two miles south along the watershed from Cross Fell the source of the river Tees. The start of the climb is the small village of Knock 5 miles north of Appleby.
The weather on the route across the A66 at the top on Bowes Moor was grim as usual but the ride from Kirby Stephen to Appleby was easy for the lads in occasional sunshine. As we head towards Knock though we can't see the tops of the hills ahead as they are shrouded in low cloud. No sign of the famous 'golf ball' radar station at the top of Dun Fell which is our ultimate goal.
The climb out of Knock is tough enough but it gets much harder and colder once we are through the gate halfway up that marks the start of the climb proper. The road gets narrower and steeper as the lads climb up into the low cloud with visibility down to 30 yards, the distance between the snow poles that line the road.
John and I soon come to a sign saying 'No Unauthorised Vehicles Past This Point' but we press on regardless for another mile or so but then come to a locked gate across the private road. This is as far as we can go. We wait as the lads pass us and then press on to the summit. After a brief stop up there for a photo they head back down for the treacherous decent in zero visibility.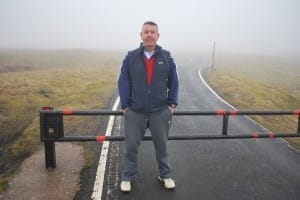 John waits ahead of the gate to warn the lads to slow down as they approach. A good call as all the lads only just manage to stop in time on the steep descent.
We chase the lads down to the bottom coming out of the low cloud and into sunshine again halfway down. A spectacular view across the Pennines with Appleby in the distance. As we get to the bottom Coxy discovers a drawing pin lodged in his tyre which could have been a disaster had the tyre blown on the descent.
Heading back from Appleby to Kirkby Stephen the lads practice riding in Peleton as John and I attempt to get alongside for some action shots.
An excellent day out and we aim to return soon to tackle the route again but next time on mountain bikes riding off road from the top of Great Dun Fell across to Cross Fell and then down. Let's hope we get better weather!