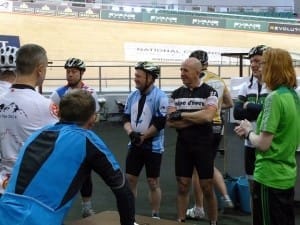 Something of a change for something of an occasion. The occasion being Waggs's 50th (sorry, 47th) and to celebrate, the lads wanted to try something Olympic. So, what better than to head to the Velodrome in Manchester to emulate our cycling heroes of 2012.
This is totally different than anything the lads have tried before. It's indoors for a start and on fixed wheel racing bikes hired for the day.
We arrive an hour early in time to watch a group of cyclists going through their paces and one lad coming a cropper as he slows too much on a bend and takes a tumble down the 25ft high, 45 degree slope bend. Ouch!
As the lads haven't done this before they have a couple of coaches to take them though the basics. First things first and there are no brakes so how do you stop? The answer is you don't and must keep peddling at all times. Try to free wheel and the pedal will kick up and you go flying. And you must maintain a certain speed to stay on the steep bends.
The lads do a couple of laps around the base, flat part of the track to get the hang on the bikes and the fixed wheel and then begin to advance up the sloping slides gaining speed all the time. To overtake someone you must go past on the outside or higher side. After a few laps relentless peddling the lads come in for a much needed breather. Inside the Velodrome is very hot and surprisingly dry and dusty.
Next up is an individual time trial to gauge people's speed for the head to heads which will finish the session. After matching the lads against each other the head to heads finish an exciting session.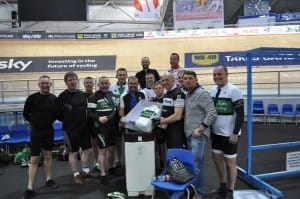 Time then for the presentation of Wagga's surprise Birthday cake which had been smuggled along all the way from the Boro in the van. Happy Birthday Wagga!
Back to the Hotel for a freshen up and then out for an Italian before hitting Madchester. We didn't venture along Canal Street but found a Mod bar for a few drinks and shapes.
A great day and evening was had by all.