At last a route plan that isn't blocked. Today we tackle the beautiful Col d'Izord and then it's up into Italy for the Col Angel. So, after breakfast and Roly's scrambled eggs we head to the start of the climb which is in the town itself and then h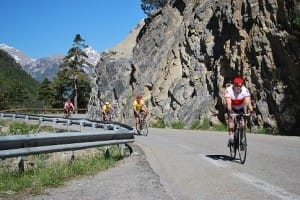 eads out into the stunning, pine tree lined valley.
It's very hot and sunny and the lads suffer on the relentless climb to the summit which seems even more breathtaking with the additional snow. The further up we go the steeper is the climbing on the switchbacks and sun beats down relentlessly.
Spena leads the way at the top followed by Coxy, Steve, Ade and Roly with Johnno, Marty and Billy not far behind. Next up is Johnny with Steve D and Wagga bringing up the rear.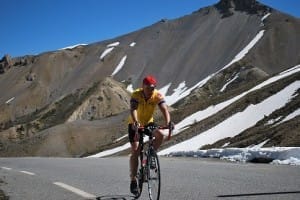 Now for the awesome descent. We've been here before and know what to expect. Spectacular views and a long winding descent and it's every bit as thrilling as last time.
At the bottom the lads have a choice. Turn left and climb the mighty Col Angel, the toughest climb yet? Or turn right and do downhill all the way to the digs in Guillestre.
The hardcore boys, Coxy, Spenna and Steve, turn left for the climb (unsupported by me) the rest head down. But down towards the infamous Tunnel of Doom…
This year we have a plan. I'll follow the lads through the tunnel lighting it up and protecting their rear while they travel behind any vehicle that passes through first. But the plan is not needed. Roadworks mean that the tunnel effectively has traffic lights so we pass through with ease.
The hardcore boys aren't back yet so I can't tell how they got on.